UserGate SUMMA includes all the necessary tools for the comprehensive protection of modern IT infrastructure that form an ecosystem. It includes virtual platforms and software and hardware systems based on the proprietary UGOS operating system, as well as complementary company products that provide flexible and holistic IT network security management.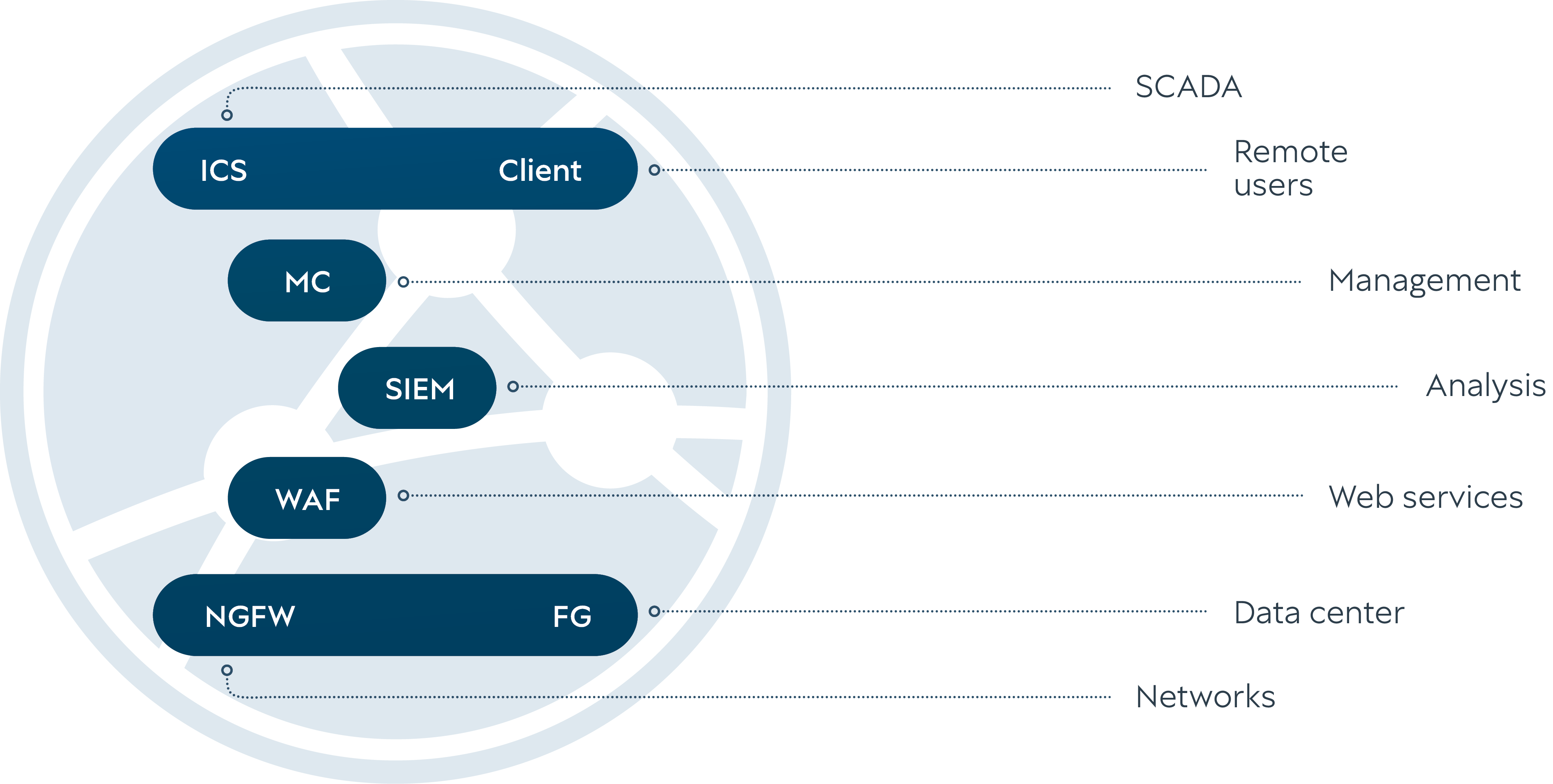 Modern networks have changed a lot in recent years. Applications and services go to the clouds, users move from offices to work remotely. The network perimeter in the classical sense is no longer there.
A new approach to security is called Cybersecurity Mesh Architecture (CSMA). This concept speaks to the importance of interconnections between cybersecurity products, information exchange and coordinated work on incident detection and mitigation.
To address these problems, UserGate has developed UserGate SUMMA security product ecosystem.
The core of UserGate SUMMA security is our own UGOS operating system, which allows you to process and analyze network traffic on highly loaded communication channels and achieve efficient scaling. This approach allows us to ensure the high quality of UserGate solutions, their further development and adaptation for different conditions and levels of complexity.
Key Aspects of UserGate SUMMA Operation
Visibility. The main problem in incidents investigation is the lack of information. It is formed due to the poor coverage of sources and the impossibility to interpret them. UserGate SUMMA technologies allow you to identify absolutely all network users, all applications and decrypt up to 98% of all unknown encrypted traffic. Thus, UserGate SUMMA provides almost 100% network visibility.
Wide application area. UserGate SUMMA products control network traffic at all frontiers of network interaction. User workstations, local network, Internet, cloud services and applications, regional branches and remote employees – everywhere you can install UserGate SUMMA ecosystem products for comprehensive data collection and infrastructure protection.
Aggregation. Unified dashboards, summary reports, centralized management console – all this allows UserGate SUMMA elements to function cohesively and smoothly. The expertise of UserGate Monitoring and Response Center (UserGate MRC) will complement the technology stack of the UserGate SUMMA ecosystem and together provide the highest level of security.
Response. With UserGate SUMMA, the security professional has a complete set of tools for monitoring the network, identifying incidents, and investigating and responding to events. The combination of solutions and technologies of the UserGate SUMMA ecosystem, as well as the UserGate MRC expertise, provide a synergistic effect and allow you to solve key business tasks – to reduce the speed of response to undesirable events, reduce the consequences of cyber incidents and minimize the downtime of business processes.
Automation. Products of the UserGate SUMMA security ecosystem are integrated with each other, and a set of automation mechanisms allows you to set up an instant response to security events and increase the speed of response to an incident.
Solving Security and Business Problems
The comprehensive UGOS operating system manages the entire UserGate SUMMA ecosystem. This allows you to use UserGate products in various combinations and usage models. Additional forms of delivery, such as virtual machines, hardware appliances and a Security as a Service model provide unlimited possibilities for implementing solutions both in the existing infrastructure of the organization and in the one being designed.
Products
NGFW
The central component of UserGate SUMMA is the Next-Generation Firewall version 6. It is based on the proprietary operating system UGOS. UserGate NGFW provides high-speed traffic processing, allows you to apply flexible policies to users, implements L7 application control on all ports, Internet filtering, SSL traffic inspection, user identification, and antivirus protection.
UserGate Management Center
UserGate Management Center allows you to manage the entire fleet of UserGate devices using a single management console. Companies with a complex and geographically distributed IT infrastructure use UserGate MC to create routing contexts (VRF, virtual router), which allows you to efficiently organize network isolation to increase security.
UserGate Log Analyzer (SIEM+IRP)
UserGate LogAn with SIEM and IRP functions as a part of UserGate SUMMA solves the problem of global monitoring of security systems: collection, storage, deep analysis of threats. The high speed of traffic processing allows, on the basis of this analysis, to automatically carry out an adequate response at the earliest stage. The built-in functionality for analyzing incidents allows you to organize teamwork to create, delegate and manage events within the UserGate LogAn system.
UserGate LogAn is deployed separately from the security gateway, which improves system reliability and scalability.
UserGate Client
Within SUMMA, UserGate Client provides endpoint security, helps organize secure zero trust remote access and network security in flat networks.
Solutions
UserGate SUMMA is an ecosystem of solutions for integrated management of hybrid IT infrastructure cybersecurity.
Remote Access in the ZTNA Concept
UserGate provides users with simple and secure remote access to corporate networks and resources while working remotely using the "zero trust" model.
UserGate NGFW is used to carry out network microsegmentation, including at the layer 7 (L7). Mandatory encryption is implemented with built-in tools for building VPN tunnels, as well as publishing using reverse proxy and creating SSL VPN portals for accessing web applications. UserGate Client provides security for endpoints. UserGate LogAn and UserGate Management Center allow specialists to monitor all network events in real time, identify and quickly respond to threats and incidents, and proactively protect against future attacks.
Protection of Government and Corporate Data Centers
Protection of data processing centers is a set of software and hardware protection tools aimed at increasing the level of network infrastructure included in the data processing center.
The UserGate solution is capable of protecting data centers from outside attacks, viruses, and other malicious software. Our solution automatically responds to incidents in accordance with the popular framework of SOAR (Security Orchestration, Automation, and Response) and can also notify administrators about suspicious events. The solution meets the requirements of the changing data center architecture, including the transition to cloud environments.
Comprehensive Security of Corporate Networks
The modern infrastructure of an enterprise can be represented by many geographically distributed offices, branches, points of sale and production facilities. The IT landscape continues to change dynamically with the development of cloud services and the introduction of remote work. UserGate SUMMA includes solutions for protecting all segments of corporate IT infrastructure and provides flexible centralized security management.
Comprehensive Protection of CII Objects
UserGate offers a certified solution that ensures the security of information systems, information and telecommunications networks, as well as automated control systems of CII entities. The solution collects and stores information about security incidents that have occurred at the facility for subsequent data transfer to SIEM.
Effective Solutions for Small and Medium-Sized Businesses
The UserGate solution for small and medium-sized businesses protects corporate networks from external threats using firewall functions, protection against attacks, intrusions and a variety of modern threats, traffic control, applying security policies to company employees, centralized management of network infrastructure security.
UserGate and UGaaS Platforms
Hardware Appliances
The proprietary operating system UGOS allows you to process and analyze network traffic on highly loaded communication channels and achieve efficient scaling. The integration of multiple security features on a single platform and the use of a "modular" approach makes it possible to conveniently customize the solution to the specific needs of any customer.
UserGate Virtual Firewall
UserGate next-generation firewalls can be deployed on the customer's virtual infrastructure. All hypervisors are supported, including VMware, Hyper-V, Xen, KVM, OpensStack, and VirtualBox. The functionality of our virtual solution is completely equivalent to that of the UserGate hardware appliance.
Security as a Service – Powered by UserGate Solutions (UGaaS)
All UserGate products are available for purchase by subscription (as a service).
Unlike the traditional solution acquisition scheme, UGaaS implies the use of the UserGate solution to provide services to third parties (Security as a Service), the use and payment of licenses as business processes and the protected infrastructure change and new tasks arise.