Security as a Service (SecaaS) by UserGate provides comprehensive protection of information systems using a subscription model without purchasing security devices. This model will be of interest to the following groups of customers:
large businesses wishing to reduce capital costs;
small and medium-sized businesses that already have valuable information but, at present, have no way to comprehensively protect it;
geographically dispersed organizations that, using the traditional approach, would have to create a multitude of security systems to protect each of their branches.
UGaaS (UserGate as a service) includes all products available within UserGate SUMMA ecosystem. A UGaaS subscriber gets access to the following features: firewall, intrusion prevention, secure browsing, email protection, streaming antivirus, and adblocking.
Information Security as a service helps the integrator to expand its presence in the market, plan infrastructure development together with the end user, and balance the standard ownership model and SecaaS model in a dynamically changing system.
The UserGate categorization engine has customarily been used by Secure Internet Access service providers. UserGate provides an API for customizing the set of services for each individual subscriber.
UGaaS Integration
Existing IT infrastructure can be connected to UGaaS in different ways:
Internet channel protection
UGaaS intercepts customer traffic entering the local network and checks it as per the rules specified. The rules can be configured in UGaaS personal account.
In addition to processing traffic and removing threats, viruses, and ads, UGaaS can provide traditional firewalling and guaranteed bandwidth.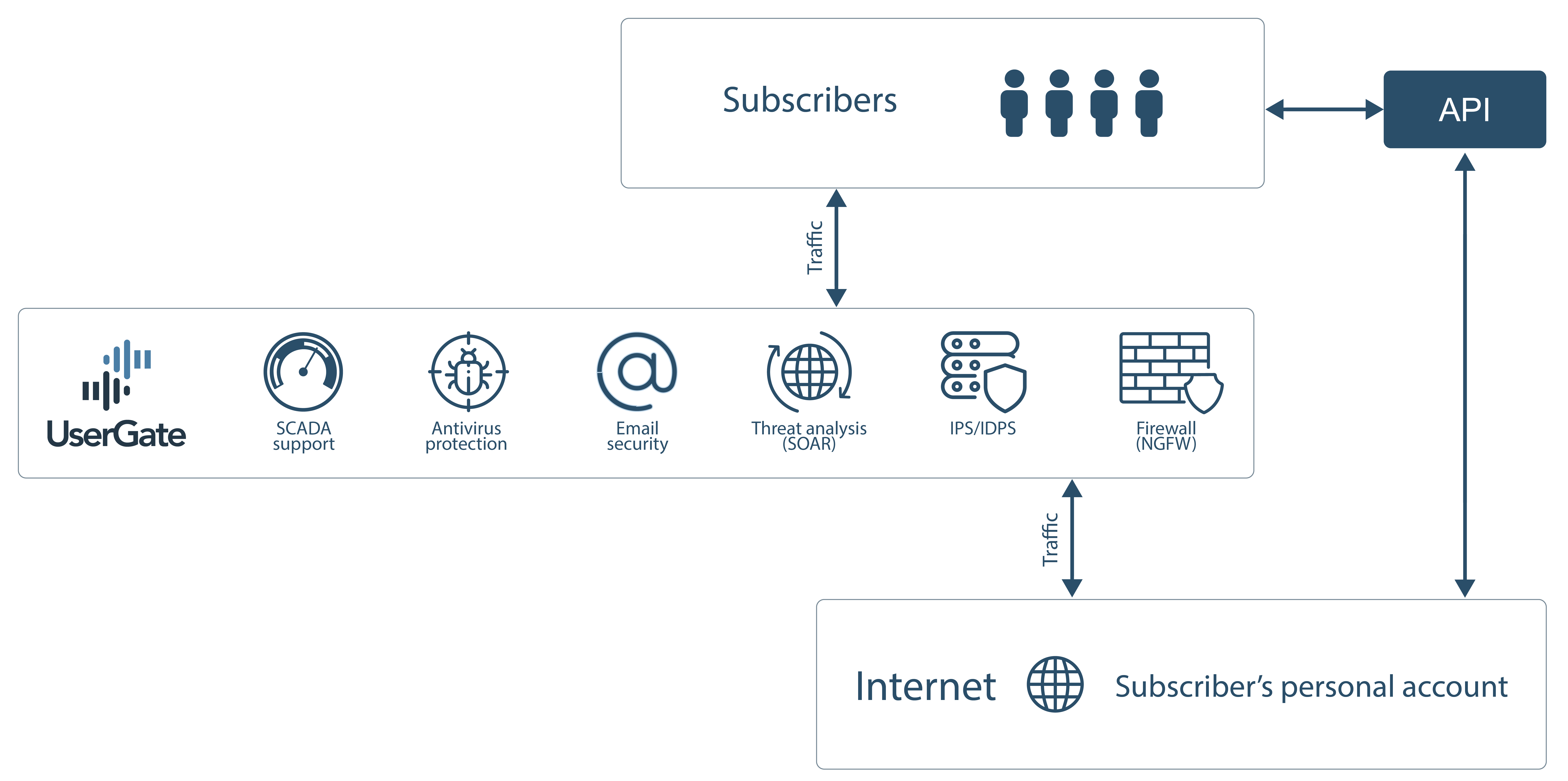 Cloud services protection
When cloud hosting services are used to run basic information systems, securing them can be tricky. Hosting providers often provide additional security services, but they do not always fully meet the customer's needs. Integration with UGaaS will protect traffic flowing from information systems to the customer. It will also protect the information systems from malicious online activity. Local infrastructure protection
The company has deployed UserGate devices but does not have employees capable of monitoring their operation and responding to threats promptly. UGaaS can help in this case too. After concluding a service contract, UGaaS administrators will manage NGFW, analyze logs, and provide technical support. The security level at which remote access takes place is approved by the customer, and industry- or site-specific requirements can also be accommodated.